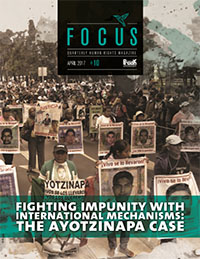 On the night of September 26, 2014, in Iguala, in the Mexican state of Guerrero, one of the most emblematic episodes of human rights violations in the recent history of our country occurred. The results were brutal: the enforced disappearance of 43 young students who are still missing; six people killed, including three Ayotzinapa students, including a man whose body appeared the following day in an uninhabited area with clear signs of torture; at least 40 people injured. In all, more than 180 people were direct victims of human rights violations that night and about 700 people were indirect victims, considering the relatives of the victims.
Ayotzinapa forced the world to see and accept that a serious human rights crisis was taking place in Mexico, which has as a particular characteristic the collusion between state and non-state actors in organized criminal activities. The so-called "Iguala Case" became a painful and paradigmatic event defined by the number of victims and the student identity of the disappeared. It is a case marked by the flagrant collusion between authorities and criminal groups, but also by an immediate documentation of what happened by human rights organizations, an ingrained tradition of social struggle in the state of Guerrero and in the school of Ayotzinapa, and an early internationalization of some aspects of the search for justice. Above all, the organizational and moral force of the fathers and mothers of the disappeared made an intense impact on the national and international public.
In the midst of pain, mothers, fathers, sisters, uncles, daughters, and grandparents of the students have spearheaded initiatives to search for the young men and the demand justice. One of these was the formation of the Interdisciplinary Group of Independent Experts (giei), which worked for more than a year in our country. Although the obstacles placed in the giei's path did not allow the group to transform its findings into the full discovery of the truth, justice, and structural change, the contributions made by this unprecedented exercise of international supervision have been of great relevance to ensure that the truth regarding the case is not covered up. These contributions also clearly marked a route that could allow us to take the first steps to emerge from the crisis that led to the events of September 26 and 27, 2014, and to so many others.
In this issue of Focus we present what, from our perspective, are the main contributions of this experience, both structural and within the case. You will also be able to read, from the voices of members of the giei, about the problems in the investigation and the challenges in ensuring that the victims are at the center of the process. Above all, we hope to contribute to an ongoing debate about how to break the cycle of impunity that harms everyone in our country.