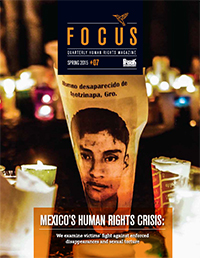 Over twenty-six years ago, a group of Jesuits founded the Miguel Agustín Pro Juárez Human Rights Center (Center Prodh) to respond to a reality in which human dignity was ignored and trampled.
Following what they called "the signs of the times," the Jesuits recognized with keen foresight that as the 1980s neared their close, it was time for the excluded and marginalized populations of Mexico to convert international human rights instruments into tools that could be used by victims to fight for a more just world.
A lot has happened since then. Civil society in Mexico has become a diverse, professionalized, and increasingly specialized sector. At the same time, the context could not be more challenging: the country is immersed in a national emergency in which grave human rights violations, such as those exemplified in high-profile cases of mass disappearance and extrajudicial executions, have shown clearly the participation of the government in criminal activities.
The struggle to make human rights reality for the most vulnerable sectors of the Mexican population is not so different today from that which the Jesuits faced when they founded Center Prodh. We cannot point to any true democratic transition or consolidation of the rule of law when 43 families await news, truth, and justice following the enforced disappearance of their sons due to the collusion between authorities and organized crime, or when the government has yet to explain why soldiers chose to attack and extrajudicially execute nearly 20 civilians in Tlatlaya in Mexico State. In light of a panorama of violations that goes far beyond these two internationally known cases, the task facing human rights defenders is to accompany victims with professional actions and tools that not only advance justice in individual cases, but that expose and weaken the structural causes of these abuses, with the aim of transforming our reality.
Along its journey, Center Prodh has been home to dozens of defenders who have helped to shape our institution; and Center Prodh has shaped them as well. The defenders who have formed part of our organization maintain a common vision, based on the conviction that our work, as our ex-Director Davíd Fernández once said, is not simply an option that we logically choose, but an instinctive and heartfelt reaction as we come face to face with the individuals and communities who seek us out.
Our task places us at a crossroads, at the intersection of denouncing and condemning abuses on the one hand, and trying to design policies to respond to them on the other. But in the end, our work has shown us that we cannot depend on any political party or banner to transform our reality, but only on the people who allow us to accompany them in their struggle for dignity and justice.
Mario Patrón Sánchez, director, Center Prodh