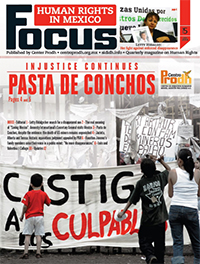 This spring edition of Focus brings updates on several cases in which survivors and families continue to fight against impunity, first by exhausting all possibilities of access to justice in Mexico and then by bringing their cases to international bodies. An example is the case of the 65 miners who lost their lives in 2006 in the Pasta de Conchos mine in Coahuila state, following a preventable explosion caused by the buildup of methane gas. This tragedy left hundreds of children and dozens of wives without their fathers and husbands.
We also present advances in the case of the enforced disappearance of Faustino Jiménez Álvarez by judicial police in 2001 in Guerrero state. The family of Faustino Jiménez, who witnesses his enforced disappearance, brought the case to the Inter-American Commission on Human Rights and achieved a friendly settlement in 2012. Last December 19, 2013, the Mexican government held a public act of recognition of responsibility in which authorities apologized for the enforced disappearance.
In this edition's human rights defender profile, we feature the tireless struggle of Letty Hidalgo against enforced disappearance. Letty transformed a family tragedy into commitment to this important cause after federal and state authorities of Nuevo León state entered her home and took away her son Roy, who was about to turn 19. Letty has dedicated more than three years to the fight for truth and justice.
We also have updates on the case of three indigenous hñäñhú women, Jacinta Francisco Marcial, Alberta Alcántara Juan, and Teresa González Cornelio, who spent years unjustly imprisoned when federal agents invented that they were kidnappers (no such kidnapping had occurred, as reflected in a favorable Supreme Court judgment in 2010). Now, the three women are advancing in the Mexican court system in their suit for damages for wrongful imprisonment, although there is no shortage of obstacles since the Federal Attorney General's Office does not wish to pay damages.
Finally, readers will find information on the recent visit of Amnesty International's Secretary General to Mexico and the latest judicial decisions in the cases of Martha Camacho and the Tila community.